TMW THOUGHTS - When you spend billions of Pounds, Dollars or Euro's on making your company one of the best there is, offering thousands of people employment around the globe, giving world class products, with style and capability, it then makes a mockery of all this hard work when others can get away with STEALING IT.


It may sound harsh, calling the Chinese brand thieves, but it's plain to see, the stunning and well made, developed and engineered Evoque, has been a worldwide hit for Land Rover, and therefore Jiangling feel that it is perfectly acceptable to Steal other peoples hard work, and the Chinese government thinks that it is acceptable.
REALLY - The Chinese Government thinks that it is acceptable to steal others designs, and allow this other brand to carry on producing a far inferior product, of course Land Rover have nothing really to worry about, the differential in price means that people will buy the Evoque because it is a Land Rover.
The pretend car, well, thats for the masses, but for now, Land Rover will be on their guard and will ensure that in the future, no one will be doing this again - and maybe the Chinese Government should look at themselves and see that by courting foreign brands to give jobs and income, should not be then screwed over, in the end, i know who will be the winner, and thats not the Chinese Government or this fake rip off.
Jaguar Land Rover will not take action against Jiangling Holding Co. over the Chinese joint venture's Land Wind X7, which the U.K. automaker says closely resembles the Range Rover Evoque SUV.
JLR had said it would take "appropriate action" after the X7 was unveiled in November at the Guangzhou auto show in China. Land Wind is a subsidiary of Jiangling Holding Co., a joint venture between Jiangling Motors Co. (Group) and Chongqing Changan Automobile Co.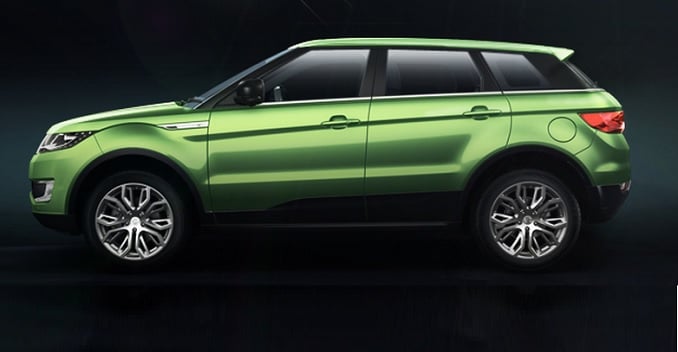 On Monday at the Shanghai auto show, JLR chief executive Ralf Speth renewed his criticism of Jiangling but said his company cannot prevent the SUV from going on sale. "I really regret that all of a sudden, copy-and-paste is coming up again," Speth told reporters. "There are no laws, there's nothing to protect us, so we have to take it as it is."
The Land Wind X7 will sell in China for about one-third of the price of the Evoque. It has broad fenders, recessed door panels and a sloping roof similar to the Evoque's.
JLR opened a production plant in October near Shanghai. The Evoque has had "steady" sales since production began four weeks ago, according to Bob Grace, who heads the automaker's China operations.
The Land Wind X7 may start sales around July or August at about 150,000 yuan ($24,200), according to Land Wind's website. That compares with the starting price of 448,000 yuan for an Evoque, according to Land Rover's website.
Calls to Jiangling's main line went unanswered. At the Jiangling stand at the Shanghai show, staff handed out four-page brochures outlining specifications for the Land Wind X7. "Imported car? No, China car," read the tag line on one page of the brochure.