JAGUAR LAND ROVER HERITAGE TO SUPPORT COVENTRY TRANSPORT MUSEUM'S 'LARGEST PARADE OF CLASSIC CARS' GUINNESS WORLD RECORD ATTEMPT
Jaguar Land Rover Heritage supports Coventry Transport Museum's world record attempt marking the re-launch of the museum next month

Jaguar Land Rover Heritage is calling upon owners of all models of classic Jaguars and Land Rovers (pre-1986 only) to join the parade

Limited edition car memento to be presented to each successful parade entrant on the day

Marks the first of two spectacular Coventry Transport Museum re-launch celebration events in the city during June 2015
Jaguar Land Rover Heritage is supporting Coventry Transport Museum's attempt to set a new world record for the 'largest parade of classic cars' ever assembled, and is calling on classic Jaguar and Land Rover owners to register their interest and take part in this momentous occasion, set to take place in the city on Sunday, 14 June 2015.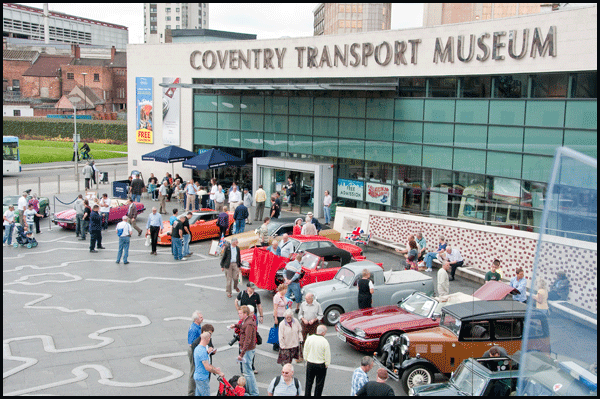 Coventry Transport Museum, with partner Footman James, aims to break the record for the 'Largest Parade of Classic Cars', which currently stands at 1,674 set in Mexico City in 2014. The goal is to attract up to 2000 classic cars that are at least 30 years old, for the record to be officially ratified by Guinness World Records.
The record attempt is planned for Sunday 14 June, the week before the Coventry Transport Museum's official re-opening, and organisers are encouraging classic car owners to get involved by registering to bring their vehicles on the day.
The route of the parade, which must measure at least two miles to meet Guinness World Record regulations, will start at the Ricoh Arena and will include the city's famous ring road. To qualify for the parade, each car must be at least 30 years old. Vehicle registration document copies will be required as proof of age.
Gary Hall, Chief Executive of Culture Coventry said:
"We are thrilled that Jaguar Land Rover Heritage is supporting us in this attempt to bring this World Record home to Coventry, the spiritual home of the British motor industry. There couldn't be a more fitting way to celebrate the re-launch of Coventry Transport Museum and Jaguar's 80th birthday than to bring classic cars from all over the country, to the city which designed, built and inspired so many gorgeous and pioneering vehicles.
"Demand to take part in this event is already very high, so we are asking people to register their interest as soon as possible."
Owners of Jaguars, Land Rovers and other classic cars who would like to take part on Sunday 14th June, and add further provenance to their prized possession, are asked to register their interest as soon as possible, by visiting http://transport-museum.com/events/event/270/guinness_world_record_attempts.aspxand completing the online 'Expression of Interest' form. Further details and confirmation of entry will be sent out in the coming weeks.
Coventry Transport Museum proudly tells the story of the city's unique transport heritage to almost half a million visitors per year. The museum's redevelopment is funded by the European Regional Development Fund, Heritage Lottery Fund, Garfield Weston Foundation, Biffa Award, Arts Council England and WREN. The project is due to be completed in June 2015.